Here is the guide on How Can I start Blogging as a Beginner? If you're thinking about starting a blog but feel intimidated or don't know where to start, this guide is for you! We'll outline everything from the basics of blogging software to more advanced topics like monetization and search engine optimization.
I have covered you whether you're a beginner or a long-time blogger. So get started today, and let us help make your blog great!
How Can I start Blogging as a Beginner?
Here are a few steps for beginners before starting blogging.
Do Research and find a micro-niche in your interest area.
Choose a Beginner Budget Web Hosting + Domain and Install a Blogging software such as WordPress. (WordPress is powering almost 37% of the web in 2023)
Choose an Optimized WordPress theme and customize it.
Choose SEO Plugin (There are so many SEO Plugins such as Yoast, SEOPress, Rank Math, etc., But here in my case, I will go with SEOPress)
Link your Blog with Google Search Console and Google Analytics
After setting up your blog, Do some Keyword Research to find those keywords that will cover your niche.
Start writing articles on those keywords that you have discovered earlier.
Earn Money from blog Monetization and affiliate marketing
Do Research and Find a Micro-Niche
A micro niche is a smaller, specific blogging area you can target. It could be a niche within a niche, or it could be a more specific topic.
When you start blogging as a beginner, it's important to think about what interests you and then find a micro-niche around that topic.
This will help you focus your content and ensure you're providing valuable information to your readers.
When choosing a micro-niche, it's important to do some research to ensure an audience for your content.
You don't want to invest time and energy in writing about something no one wants to read about! There are many tools and resources available online that can help you determine whether or not there is interest in your chosen topic.
Example: A micro-niche can be defined as a small, specific area of interest that a person has. For example, a person interested in fashion might have a micro-niche in vintage clothing.
Web Hosting + Domain For Beginners
If you want to start a blog or create a website, you'll need to familiarize yourself with the terminology: web hosting and domain names.
Web hosting is the service that stores your website's files on a server. When someone types in your website's address (domain name), the web hosting company's server sends them your site. The cost of web hosting varies, depending on the company and the features you need.
Domain names are simply the addresses of websites. They can be purchased from various domain name registrars for a yearly fee. For example, Google Domains, Name Cheap, and Namesilo are some popular domain name registrars that allow you to search for and purchase available domain names.
Once you've registered a domain name, you'll need to point it at your web host's server so that it can start functioning online.
When starting a blog, the most important decision you'll make is what web hosting to choose. Not all hosts are created equal; some will better fit your specific needs than others.
Here are a few things to keep in mind when making your decision:
How much storage space do you need?
How much bandwidth do you need?
What kind of features does the host offer?
What's your budget?
Are you comfortable with the Panel they are providing?
Is customer support important to you?
Where is the host's data center located?
What kind of hosting plan do you need – shared, VPS, or dedicated server?
The first host I recommend is Bluehost. They're one of the most popular providers, offering a great starting package with a free domain for just $2.95/month. Bluehost is also beginner-friendly, with a user-friendly control panel and great customer support.
Here is a Tutorial: How To Install WordPress On Bluehost
Hostinger is a great option for beginners because it is affordable and user-friendly. In addition, their customer service is excellent, and they offer a wide range of features that make it easy to start blogging.
One of the best things about Hostinger is its free domain name offer. You can also set up your blog quickly and easily through their user-friendly platform. As a result, Hostinger is an excellent choice for anyone starting in the blogging world.
Here is a Tutorial: How to Create a WordPress Website in 10 Minutes Using Hostinger
Choose Optimized WordPress Themes
There are many WordPress themes to choose from. It can be overwhelming. So how do you find a good WordPress theme? There are a few things you need to consider when choosing a WordPress theme:
What is the purpose of your website?
What kind of content will you be publishing?
Who is your target audience?
How tech-savvy are you?
Once you answer these questions, you can start narrowing down your options.
If you're starting, choosing a WordPress-optimized theme might be a good idea. These themes are specifically designed for WordPress and are typically easier to set up and use than other themes.
Here I will recommend the most optimized top-rated WordPress themes, which can be used for multiple purposes.
GeneratePress Theme
WP Astra
If you're looking for a versatile, easy-to-use WordPress theme that doesn't require a lot of customization, GeneratePress is a great option.
This theme is designed to help you get your blog or website up and running as quickly as possible without sacrificing quality or functionality.
One of the best things about GeneratePress is its lightweight and fast loading. This makes it an ideal choice for bloggers who are just starting and don't have a lot of bandwidth to spare.
The theme also includes several built-in features that simplify customization, including custom headers, menus, and widgets.
You can also choose various color schemes and fonts to create a look perfect for your site.
Generatepress offers both free and paid versions of their theme. As you know, the difference between free and paid versions. The free version will restrict you from using the full functionality of the composition, while the Paid version will perform with full functionality.
WP Astra Theme
Are you thinking of starting a blog? WordPress is a great platform for your blog, with many different themes to choose from. One theme that I recommend for beginners is WP Astra.
WP Astra is a simple yet elegant theme perfect for starting bloggers. The music is easy to customize, and many options are available to make your blog look how you want it to.
Another great thing about WP Astra is that it is SEO friendly. This means your blog will rank higher in search engines, resulting in more traffic.
WP Astra is the perfect choice if you are looking for a simple yet stylish WordPress theme.
Same GeneratePress WP Astra also offers free and paid versions of their theme. As you know, the difference between free and paid versions. The free version will restrict you from using the full functionality of the composition, while the Paid version will perform with full functionality.
SEO Plugins
SEO plugins can help your blog or website rank higher in search engine results pages (SERPs), helping you attract more visitors. There are several SEO plugins for WordPress, Like SEOPress, Yoast SEO, Rank Math.
But my suggestion is SEOPress. SEOPress is a plugin that allows you to optimize your content for search engines, and it also provides feedback on how well you've optimized each post.
Its paid version costs you USD 39/per year, while Yoast SEO costs you $99 / per year (ex. VAT)
To install SEOPress, go to the Plugins menu in WordPress and search for "SEOPress." Next, click on the "Install Now" and the "Activate" button. Once SEOPress is activated, you will see a new menu item in WordPress called "SEO."
Link Your Blog with Google Search Console and Google Analytics
Link with Google Search Console
Links your WordPress blog with Google Search Console to Start Blogging as a Beginner.
Google's Search Console is a free service that helps you monitor your site's presence in Google search results. You can use Search Console to submit and check your site's indexing status, get notifications about critical site errors, and see how your site appears in Google search results. This article will show you how to add your WordPress site to Google Search Console.
To add your WordPress site to Google Search Console, you need to create a new property in the Search Console. To do this, open the Search Console and click the "Add a Property" button.
In the "Add a Property" dialog box, enter the following information:
-Your website's URL: Enter the full URL of your website, including the www or https:// prefix.
Watch the tutorial
Link with Google Analytics
The first step is to install the Google Analytics for WordPress plugin. This can be done by going to your WordPress Dashboard and clicking on "Plugin" in the left-hand column.
Then, type "Site Kit by Google" into the search bar and click on the "Install Now" button. After it has been installed, click on "Activate Plugin."
You will then need to get a Google Analytics account if you don't already have one. Once you have created an account, you must copy your tracking ID. This unique number assigned to your account will allow Google to track your website traffic.
To find your tracking ID, sign in to your Google Analytics account and select the "Admin" tab at the top of the page.
Watch the Tutorial
Do Keyword Research
When starting a blog, one of the most important things you can do is choose the right keywords to focus on. Keyword research is finding and targeting the right keywords for your blog content. This involves researching what people are searching for online and then choosing keywords that you think your target audience would be interested in.
There are several different ways to do keyword research, but here are a few tips to get started:
Use Google AdWords Keyword Planner. This tool is free to use and allows you to see how many people search for specific keywords each month. You can also see related keywords and other information about each keyword, such as how competitive it is to rank for that keyword.
Use Google Trends. This tool lets you see how popular a particular keyword is over time.
Use People Also: The people also ask section in the Google search engine is a great place to learn more about specific topics. The section includes a list of frequently asked questions and their corresponding answers. This feature can be especially helpful for beginners just starting to blog.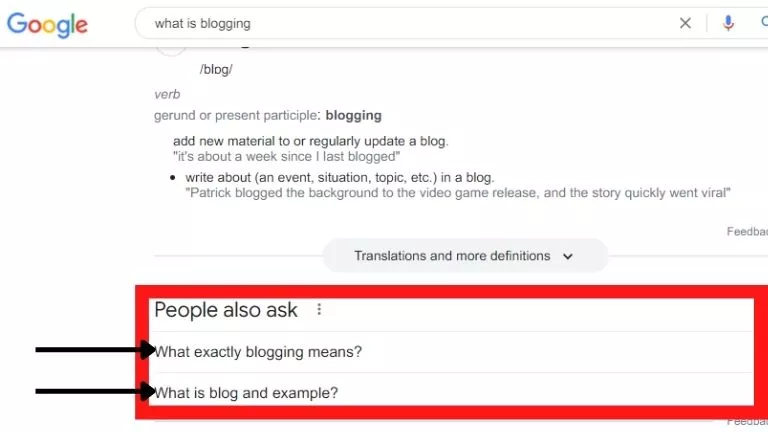 Answerthepublic.Com: Answerthepublic.com is a website that helps bloggers and online content creators find ideas for blog posts, articles, and other online content.
The site provides a search bar where users can enter keywords or phrases, and then the site returns a list of related topics that users can explore for content ideas. Additionally, answerthepublic.com offers resources for beginner bloggers, including tips on how to start a blog, how to write effective blog posts, and how to increase traffic to one's blog.
answerthepublic.com allows you only two searches per day for free for more, and you have to buy its paid plan.
Start Writing Articles
When you start a blog, it is important to think about what you want to write about. For example, will you share personal experiences, or will you write about topics that interest you?
Once you have an idea for a topic, do some research and come up with a plan for your blog post. Make sure your post has a clear structure and includes all necessary information.
Start writing your post by introducing your topic and providing some background information. Then, break your main points down into easy-to-read paragraphs.
Finally, conclude your post by summarizing your main points and leaving readers with a call to action.
Earn Money from Blog
Blogging can be a great way to make money, but building up an audience and generating income takes time and effort. Here are a few tips for beginners on how to start a blog and make money from it:
Here are two ways to make money from blogs Read Here,
Check Blogging Tools and Resources.
Conclusion
In conclusion, starting a blog as a beginner can seem like a daunting task. But with the right tools and information, it can be easy to get started and build a successful blog. By following the steps in this article, you can be on your way to becoming a successful blogger in no time.